Dr. med. Nina Picker
Specialist for
VISCERAL SURGERY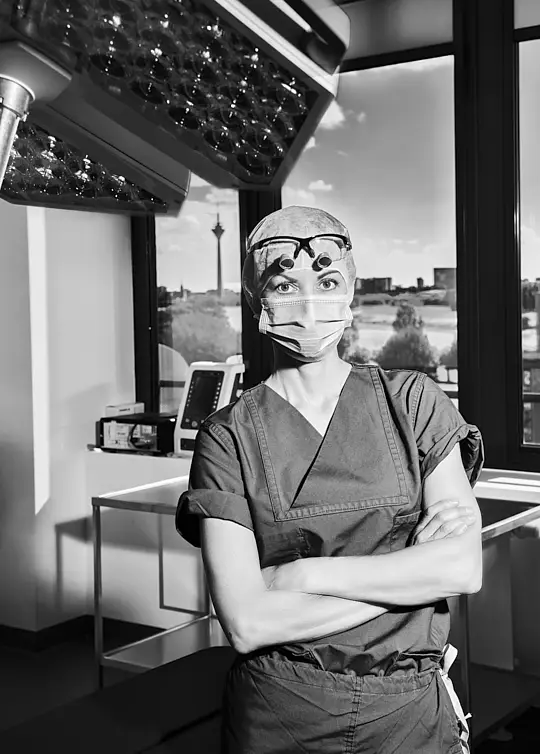 Dr. med. Nina Picker
Specialist for
AYURVEDA MEDICINE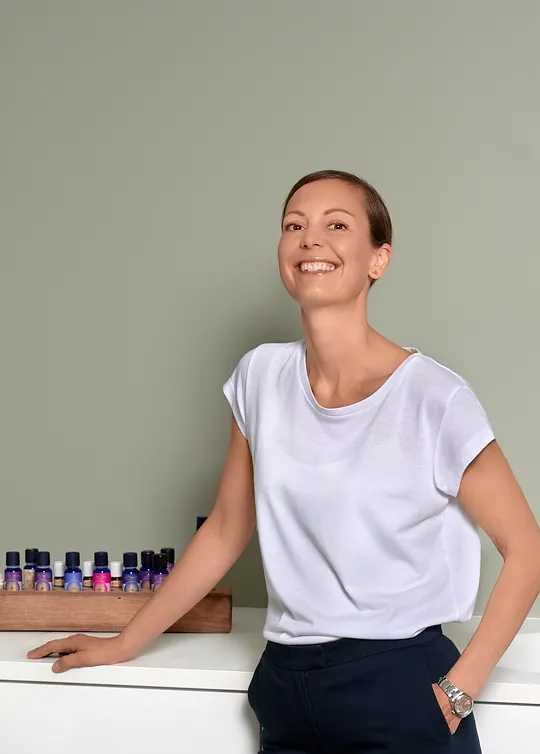 Licence to practise medicine / State examination Studies in human medicine Rheinische Friedrich- Wilhelms-University Bonn
Specialist in visceral surgery
Additional qualification in special visceral surgery
Specialisation in Ayurveda (D.G.A)
Specialisation in Marma Therapy (D.G.A.)
Studies and specialist training in Bonn
Dr. med. Nina Picker was born in Münster and grew up in Tecklenburg.
Following her early fascination with medicine, she studied Human Medicine at the
Rheinische Friedrich-Wilhelms University in Bonn. Dr. Picker obtained her doctorate at the Pathophysiological Institute of the University of Bonn. She completed her specialist
training in the Department of Surgery at the Johanniter Hospital in Bonn (Head Physician Prof. H. Wilms and Prof. A. Türler). These years were mainly characterised by the wide range of laparoscopic operations and included the entire spectrum of visceral surgery with a focus on colorectal and bariatric surgery.
Further specialist training
in South Africa and Düsseldorf
In 2011, Dr. Nina Picker continued her specialist training at Stellenbosch University Hospital (head physician Prof. B. Warren) in South Africa, which expanded her open surgery spectrum in particular. After a year in visceral surgery and trauma surgery, which included in particular the care of polytraumatised patients, she returned to Germany in 2012 and completed her specialist training in visceral surgery at the University Hospital Düsseldorf (Head Physician Prof. W. T. Knoefel). From 2017 to 2021, she worked here as a senior physician and was able to specialise in gentle procedures in the abdominal cavity, as well as in endocrine surgery. In 2019, she acquired the additional title of Specialist in Specialized Visceral Surgery.
Visceral Surgery and Ayurvedic Medicine
Dr. Picker spends her free time with her family and friends, preferably in nature and always with a piece of Africa in her heart. She also finds relaxation in running, riding and reading.
RKM 740 Interdisciplinary Specialist Clinic Düsseldorf
Senior physician, University Hospital Düsseldorf- Clinic for General, Visceral and Paediatric Surgery
Resident at Stellenbosch University Hospital, Cape Town, South Africa – Clinic for Visceral and Trauma Surgery
Resident at Johanniter Hospital Bonn, Department of General and Visceral Surgery
Accompanying her many years of surgical experience and expertise in orthodox medicine, Dr. Picker completed her training as an Ayurvedic Doctor and Marma Therapist at the European Academy of Ayurveda and the German Ayurveda Academy from 2018 to 2021. At the RKM 740 Interdisciplinary Specialist Clinic, Dr. Picker combines her many years of specialist experience in surgical and conservative Visceral Surgery with Ayurveda Medicine. The usefulness of a Surgical Therapy is always critically questioned. If an Operation is necessary, it is performed both as an outpatient and as an inpatient procedure on the Clinic's own premises.
In addition to her surgical expertise, Dr. Picker offers a broad repertoire of Ayurveda
Treatments and Counselling Options, which can be combined with the Surgical Treatment if desired.
DGCH German Society for Surgery
DGAV German Society for General and Visceral Surgery
BDC Association of German Surgeons
CAMIC Surgical Working Group on Minimally Invasive Surgery
CAEK Surgical Working Group on Endocrinology
DGA German Society for Ayurveda
PhD at the Department of Pathology, University of Bonn: Experimental work on lymphatic vessel invasion of colorectal adenocarcinomas
2017-2021 Lecturer at the University of Düsseldorf for students of human medicine